Malaeka Satin Set: Effortlessly Modest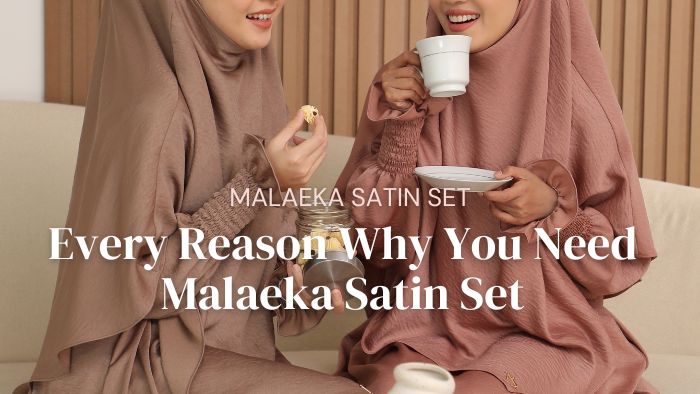 Tashkila Edits 23 - Malaeka Satin Set: The Perfect Solat Wear Solution

Fashion-forward sisters, listen up! Get ready to elevate your solatwear with the Malaeka Satin Set! This fabulous ready-to-wear ensemble is perfect for the modern Muslimahs who want to slay all day while keeping it
solat-ready
. The set comes in a 
Jubah, French Khimar, and Half Niqab, all made from high-quality ironless crepe material.
Say goodbye to ironing, because the Malaeka Satin Set is made from high-quality ironless crepe material. Plus, no need to worry about damaging your clothes or getting pricked by pins because the set is pinless! It's time to say goodbye to inconvenience and say hello to chic and practical wear.
But it gets better! Malaeka Satin Set is Solat-friendly and Wudhu-friendly, so you can easily perform your ablutions and prayers without compromising on style. And for all the nursing mamas out there, our Set is Nursing-friendly too, making it the perfect choice for moms on the go!
Malaeka Satin Set - Perfect For Your Umrah Wear

Now, let's talk style! Our Malaeka Satin Set features a loose and comfortable design that allows for complete freedom of movement. It's also Syarie-compliant, ensuring that you're staying true to the appropriate dress code while looking fabulous.

But most importantly,the stunning satin finish. The Malaeka Satin Set is the perfect combination of practicality and style, with a luxurious satin finish that suits for any occasions from the streets to the masjids.
Peace Of Mind When Comes To Solat Ready Wear

Now you have all the reasons to add the Malaeka Satin Set to your wardrobe and elevate your solat-ready wear game to the next level. With its chic and practical design, you'll be ready to perform your prayers in style and comfort, all day, every day.
Make sure to check out our social media
Instagram
&
TikTok
to see these Malaeka Satin Set tutorials! 
Malaeka Satin set sold out quickly the last time round but we are excited to announce that it is now available for pre-order. Don't miss out on the opportunity to add this beautiful set to your wardrobe! 4 colours available for you to choose from! Click the link below to get yours now 


Delivery ETA: 29 May - 2 June
(In time for Hari Raya Aidiladha!)
Pre Order Link Below
---