The Only Quality Sleep Guide You'll Ever Need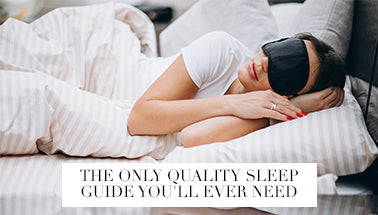 The Only Quality Sleep Guide You'll Ever Need
A decent night's sleep, just like a vigorous diet and workout, is vital to your psychological, emotional, and corporeal well-being. Many persons do not acquire the 7-8 hours of night sleep suggested by sleep specialists. It does not have to be this way.
Quality sleep is something that can look furtive to us. You lie down, close your eyes and wait for sweet rest to thrill in. But for millions of individuals, this is not the situation. It is estimated that people have insomnia, many of whom experience difficulty falling asleep.
Here are 5 tips you can try to improve your sleep, and prevent yourself from feeling so sluggish during the day.

1. Be strict about sticking to your sleep schedule
Make sure that you get up at approximately the same time every day – even though you may not have to get up to go into the office, keep setting your alarm to help your body know when the start of the day is.

2. Stay away from caffeine and alcohol
One of the utmost common reasons for poor sleep is excessive alcohol, caffeine, or medications. It seems that even 8 hours before bedtime can cause an adrenaline surge and get your hormones bustling when hitting the sack. So, it is best to in the afternoon as your body will not have substantial time to process the chemical, and you will not succeed in falling asleep as fast as you want it to.
3. Schedule your mealtimes appropriately 

Do ensure regular mealtimes throughout the day – have breakfast soon after waking, lunch at noon and then dinner at the same time each day. Include some exercise in your daily routine – if you can get out of the house for a walk or run in the morning or afternoon, which would be ideal, or else do with the kids at 9 am!

4. Prepare your sleep

When it comes to the evening, keep the lights dim and make sure your electronic devices have night mode block blue light 1 to 2 hours before bedtime. 
5. Get yourself nutritious functional foods
Take Luna Night in the evening after dinner to help provide you with a good night's sleep by reducing anxiety and calming the body. It contains several key ingredients:
Aloe Vera

Helps bring moisture back to dry skin
Contains Vitamins A & C
Increases collagen production and can increase skin elasticity

Ashwaganda

Known to reduce stress and anxiety
Helps in providing a better quality of sleep
Can boost your overall immunity levels

Kiwi

High levels of Vitamins C, K, and E
Folate for producing and maintaining new cells
Contains potassium, an essential mineral for many essential bodily functions

Astaxanthin

Known as one of the most potent antioxidants found in nature
Thought to help to relieve eye discomfort, visual fatigue & eye strain
Can improve skin firmness and elasticity

Chamomile

May improve heart health
May benefit blood sugar control
May reduce the risk of several cancer types
Promotes digestive health due to its anti-inflammatory effects
Contains antioxidants that can lead to better quality sleep
Luna Day is one of the most effective product which will make your day better with its best ingredients. Take Luna Day in the morning after your breakfast to help provide you with exceptional energy levels throughout the day, better digestion, and improved skin health. It contains several key ingredients:
Green apple

High in antioxidants, keeping your skin elastic and youthful
Provides natural sun protection by increasing melanin production
Natural vitamin content whitens & brighten your skin

Acerola Cherry

Rich in Vitamin C, helping to improve body defense
Known as an astringent, therefore helpful in treating skin blemishes
Preserves collagen in the body and keeps skin healthy

Camu-Camu

A known "superfood," rich in antioxidants
Known to contain anti-inflammatory compounds
Can also help reduce skin pigmentation
---